The Asociación Internacional de Hispanistas and Sigma Delta Pi, the National Collegiate Spanish Honor Society, are pleased to announce that Andrea Carrillo, a graduate student at Indiana University, Bloomington, is the winner of the 2022 Ana María Matute Prize.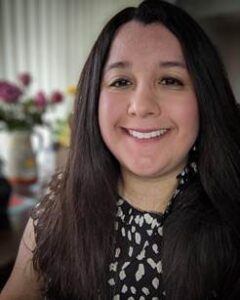 Ms. Carrillo will be recognized formally at the 104th Annual Conference of the AATSP in San Juan, Puerto Rico, during Sigma Delta Pi's Triennial Convention at the Caribe Hilton on Monday, July 11, 2022 at 2:00pm. Congratulations to Andrea for this exceptional honor.
The Ana María Matute Award is granted each triennium to one graduate student of Spanish/Hispanic Studies who has demonstrated outstanding achievement in coursework completed and exemplary involvement in extra-curricular activities as related to Spanish/Hispanic Studies.